Due to the internet surveys are a lot easier. In this article I will present you 7 online tools you can use for your online surveys and polls.
Advantages of surveys
The people always want and wanted to know how the other people think about something. For example for political elections prognosis and their causes can be interesting. If you know as a politician what are the important political issues you can react on this.
Nevertheless in the most cases surveys are conducted for economic interests. According to the feedback of its customers a company can learn how to optimize its marketing and products.
Even in other cases surveys may be helpful, if you just want to get feedback of multiple users/customers.
10 Tips for creating surveys
The best survey tool does not help if you make mistakes in creating your survey. To prevent this, here are 10 composed tips for creating surveys:
Keep it short (only necessary questions)
Avoid leading questions (your questions should be as neutral as possible)
Use response scales whenever possible (instead of just yes/no, read more at tip 7 of this website)
Consider your audience (read more at tip 8 of this website)
Explain why (for example improving a product, read more at tip 4 of this website)
Conduct background research (helps for formulating questions, read more at tip 3 of this website)
Find similar surveys as examples (read more at Harvard Tip sheet on questions wording)
Group questions according to topic (read more at tip 3 of this website)
Ask sensitive details at the end (for example age, read more at tip 4 of this website)
Test your survey (for example: observe 3 persons while answering your survey)
The 7 surveys and polls Online Tools
Now that we know how to create surveys for the best results, we should consider which tool you can use. There are so many survey tools on the web, I can not present them all in one article. I have chosen 7 of them with the intention of presenting a good mix of free, really popular and creative/innovative tools.
1. Beautiful forms with Typeform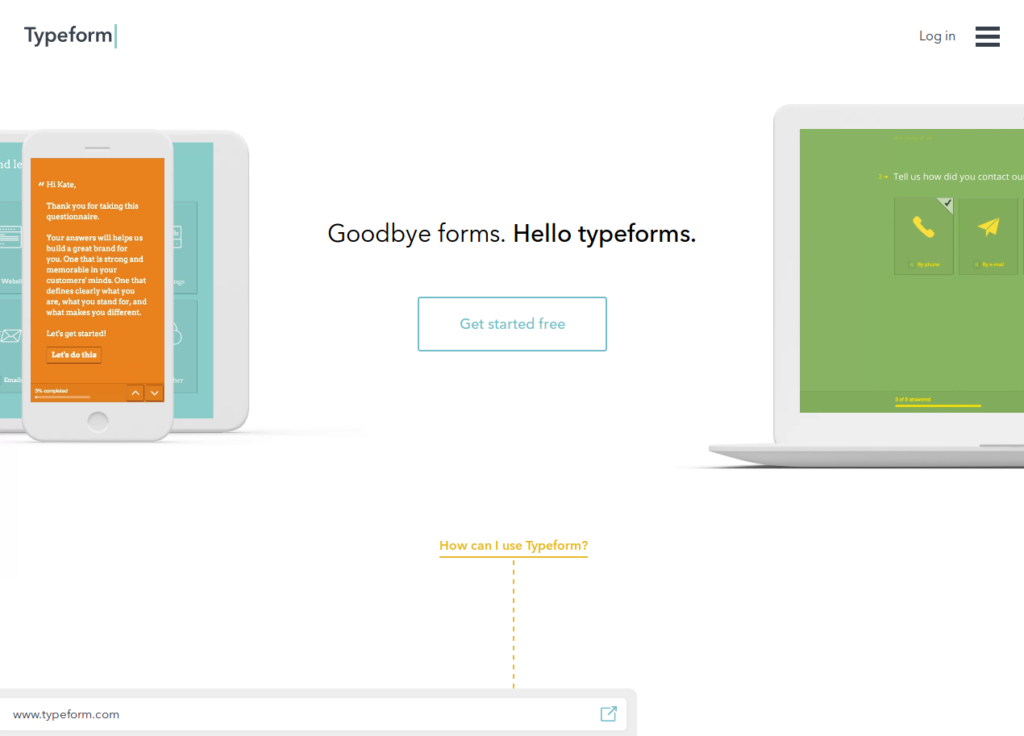 Typeform describes itself as tool for "free & beautiful forms", how true. Already on the home page you can imagine how creative and beautiful the surveys of typeform can be. See their Wall of Love on Twitter with many user feedback.
Customers of the free version can access up to 100 responses per month and each survey may contain at most 10 fields. Unlimited responses and advanced question types are included in the PRO and PRO+ plans starting at 25 € per month. A fair deal for an innovative product.
Pros:
+ Beautiful forms and maybe more success with your surveys
+ Innovative company
+ Really easy to use
+ Free plan
Cons:
– only limited responses and fields in the free plan
– payment only with credit cards (e.g. no PayPal)
2. Classic & popular: PollDaddy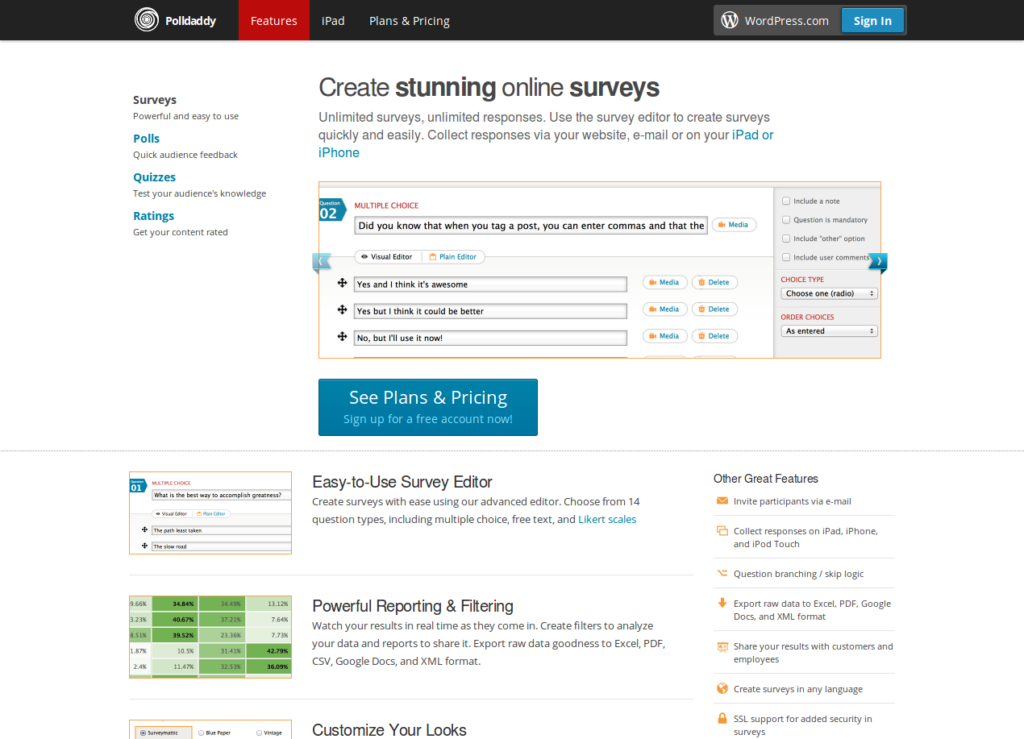 Another really popular survey tool is Polldaddy. Automattic, the WordPress.com company, is the company behind Polldaddy. If you already use WordPress.com you can register for Polldaddy with your account and can easily integrate your polls and surveys in your WordPress.com website.
A big advantage of Polldaddy is the free plan: Unlimited polls, surveys in many languages and unlimited responses for free with yourdomain.polldaddy.com. If you want white label surveys, full customizing, export functions or maybe access to an API you have to pay 200 $  respectively 900 $ per year.
Pros:
+ unlimited surveys and responses for free
+ many languages supported
+ customize your surveys for free
+ acceptable survey layout
+ real time layout
Cons:
– for example Typeform (see above) more innovative
3. Free Surveys with Google Forms
We know Google as search engine, email provider, office product provider and much more. But Google offers also a basic solution for your own forms: Google Forms.
As far as can be seen Google Forms is completely free. There is no limit in accessing answer or fields per survey/form. You can edit your forms as WYSIWYG and choose between the most important question types.
As interesting feature you can take a form as a quiz and make the users able to reach a good score.
Pros:
+ completely free
+ quiz mode
+ lots of settings (e.g. collect email addresses)
+ WYSIWYG
Cons:
– Privacy: Your surveys data at Google
– not the most beautiful tool, surveys may look really similar
– Google branding on the survey page
4. The "classic" and popular survey portal SurveyMonkey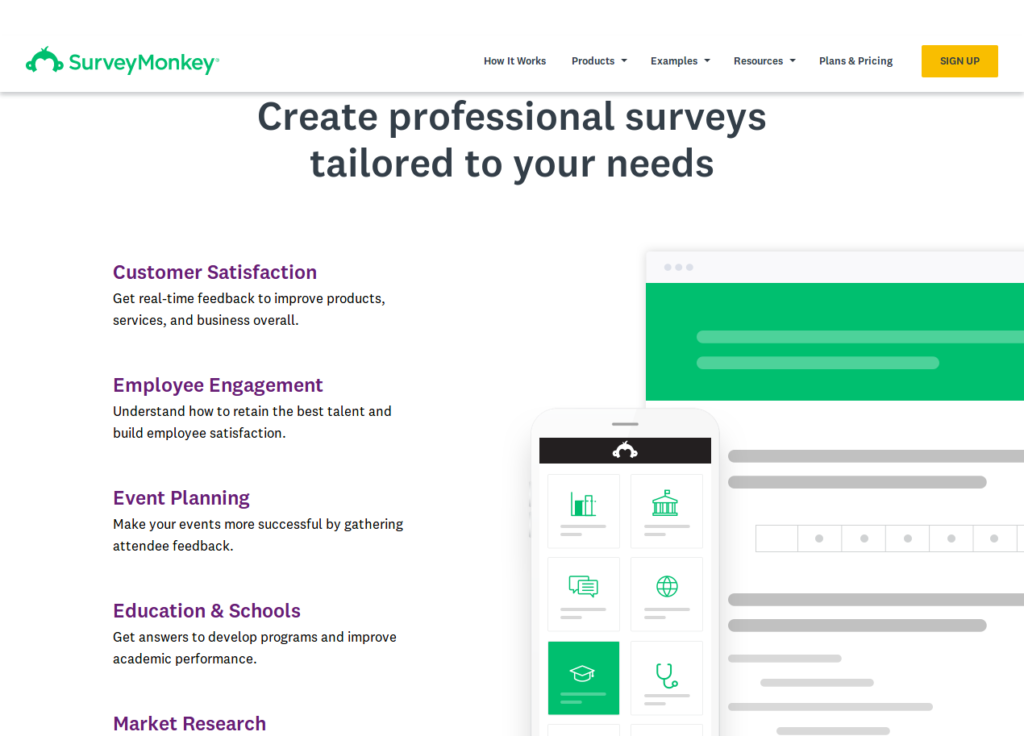 SurveyMonkey is one of the most popular tools for online surveys. All types of forms you can imagine can be used on SurveyMonkey, such as: quizzes, academic research surveys, customer satisfaction and much more. For every purpose there are the right options and a big choice of question types you can use.
As on TypeForm (see above) the free plan allows only access to 100 responses per month and one survey may contain at most 10 questions. The other plans starting at approx. 33 € per month paying annually allow access to unlimited responses and unlimited questions per survey. Additionally you can customize your survey, export it in different formats and can use great survey logic features (e.g. A/B testing, randomization, quotas).
Pros:
+ popular tool with 16 million responses per day
+ free plan available
+ lots of survey and question types possible
+ good export and analysis functions
+ help center with lot of articles
Cons:
– free plan with limited responses only
– complex/professional tool needs training period maybe
– not as innovate as for example TypeForm
5. Another modern one: Checkbox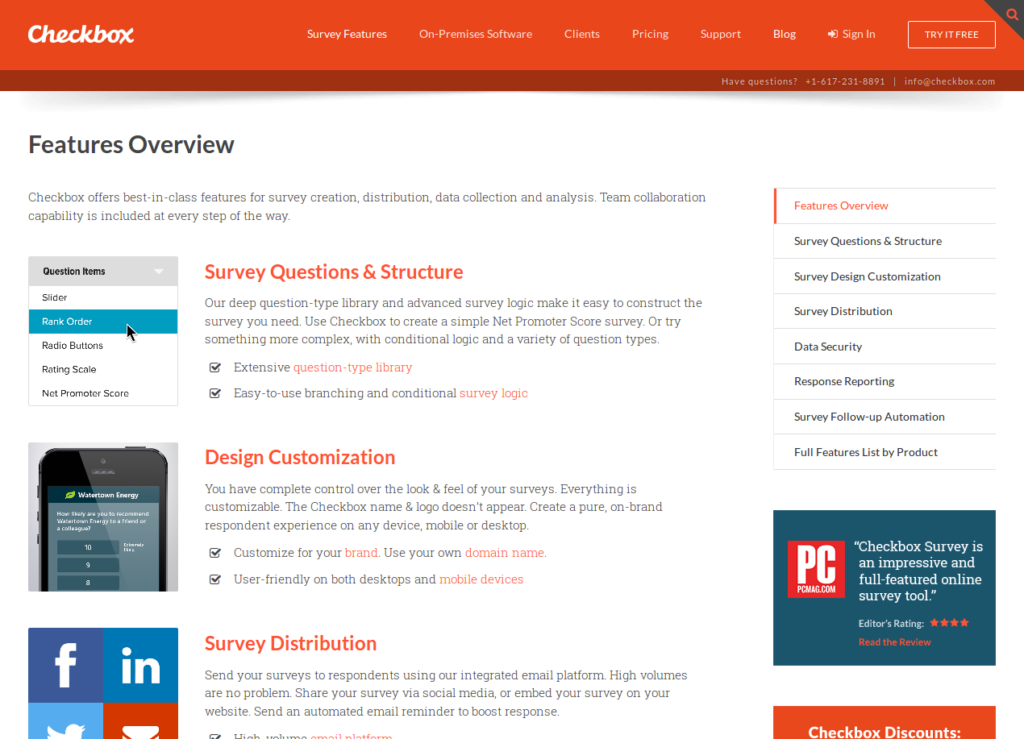 Checkbox has also a modern look-and-feel. It is especially interesting for companies, because there is no free plan. You have a lot of question types and settings for your surveys.
The hosted surveys/survey online tool starts at 450 $ per year with unlimited surveys and responses. If you want to install the survey software on your own server you can obtain a server license starting at 3,450 $ per year.
Pros:
+ lots of features and interesting for companies
+ impressive layout of the surveys
+ possibility to install the software on your own server
Cons:
– no free plan, other plans more expensive than others
6. For Business: GetFeedback.com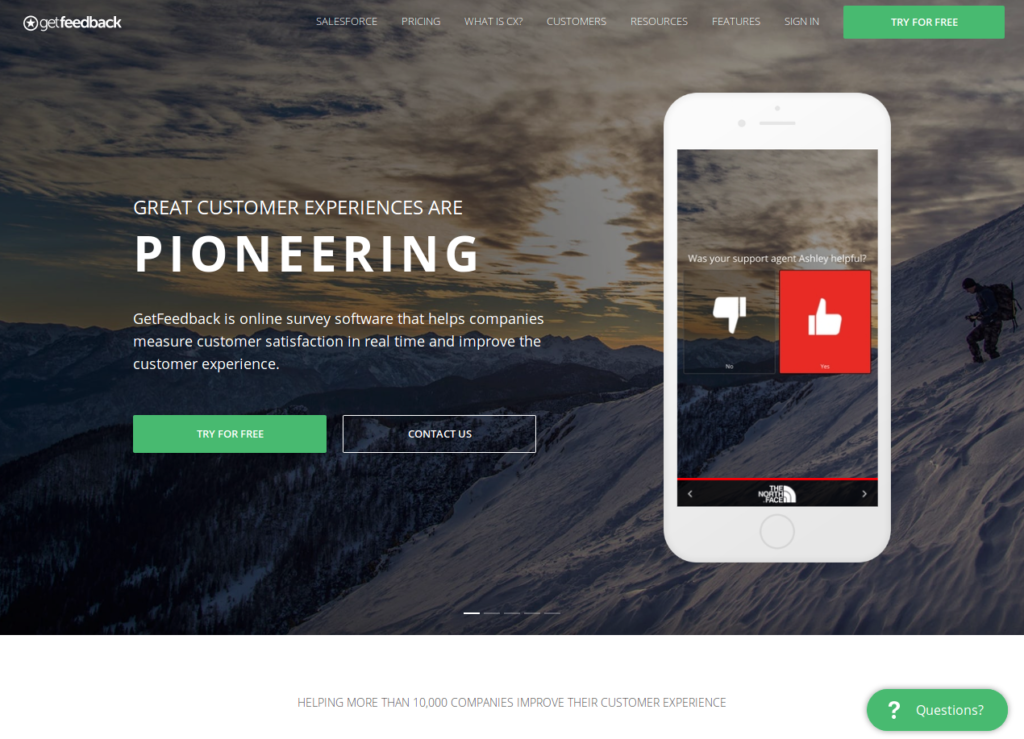 To present an innovative, modern survey tool especially for business customers also, here is GetFeedback.com.
GetFeedback offers lots of different integration possibilities for its surveys. For example you can easy integrate rating stars in your business' emails. The cheapest plan starts at 50 $ per month including 1,000 responses per month.
Pros:
+ really modern layout and look-and-feel
+ lots of survey features and question types
+ creative integration features (for example include survey in an email)
Cons:
– only for companies, no free plan
7. SurveyGizmo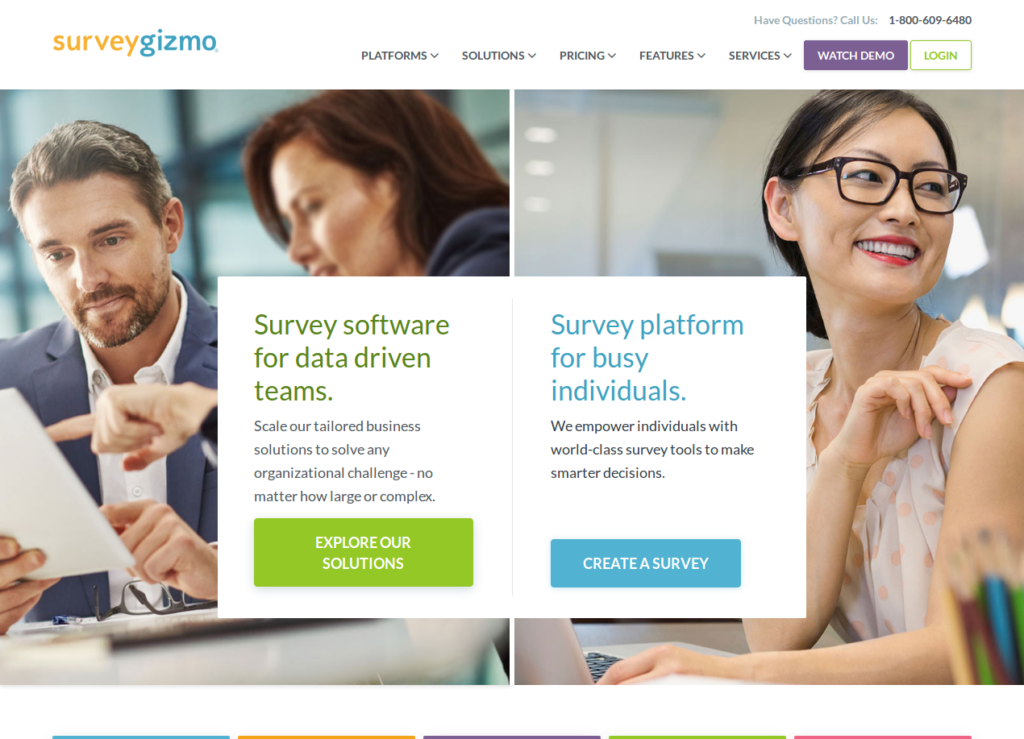 SurveyGizmo is also an interesting survey solution for companies and individuals. It supports lots of question types (25+) and features, such as the other tools for creating surveys.
The free plan includes 3 active surveys at a time with 100 responses per survey. Professional plans start at 25 $ per month up to no limit in case of an individual offer for enterprise users.
Pros:
+ modern look-and-feel
+ free plan
+ lots of features and question types
Cons:
– free plan with limited responses for each survey
– other sites more clear (for example table comparing plans)
Summary
As seen there are lots of different survey and poll online tools and all are providing similar interesting features, but the differences are in the details.
If you just want free surveys with unlimited responses Google Forms or PollDaddy may be a good choice. For beautiful surveys Typeform may be a good choice, while big companies may be more interested in the enterprise plans of SurveyMonkey, SurveyGizmo or GetFeedback.
I wish you successful surveys and polls, whatever survey tool you choose!